Bike fit technology has been getting more advanced in recent years, providing highly accurate and precise measurements to perfectly fit a rider to the bike. A properly fitting bike can help to prevent injury, promote peddling efficiency and increase comfort.
We were recently invited to a sharing session with Martin from Fahrenheit Performance and Winston from Friday Bikefit Taiwan on the latest technology in bike fitting, training and cycling analytics that could potentially help both novice and pro riders achieve the most comfortable and effective bike fit.
Here are some of the systems that were demonstrated:
STT Systems utilizes a 3D motion capture to record the cyclist's movements. It records motion at 100 fps (frames per second) – 5 times more precise than the Retül bike fit system. This system is so convenient because no cables or batteries are needed to be attached to the rider.
4 cameras are placed in a square around the cyclist, the cyclist hops onto a bike machine and real-time motion is being shown on the screen. This technology is highly accurate and provides you with all the information you need including gait analysis, pelvic motion and tilt, ankle movement etc.
And in just 5 mins, the fitter or trainer is able to get real-time data on the rider's motion, both sides simultaneously. This allows the bike fitter to make fast and easy adjustments to a rider's position using objective and highly accurate fit measurements to guide the changes.
WIVA is a technology that measures saddle pressure. When the rider starts pedalling, he exerts different pressure points on the saddle pad and it is reflected by the movement of 4 dots on the app.
From this, we could see the different pressure points, whether the cyclist is exerting more pressure towards the back or front of the saddle, or leaning more to one side.
This can help to correct the cycling posture and help the rider to choose a saddle of an appropriate width.
The Leomo Type-R is a pretty cool device where you attach it to your bike like a Garmin computer – just that it comes with wearable motions sensors to analyse your ride better in real-time too.
5 sensors will be placed on the rider; 2 inclinometers on the quads in line with the legs to measure foot and pelvis angle, 2 accelerometers on the shoe to measure inertia and 1 on the lower back. It provides real-time stats on the rider's motion, power, cadence, speed, heart rate and GPS data.
However, the data that was most intriguing is that the Leomo is able to measure the Dead Spot Score (DSS). It tells you how efficient your pedalling stroke is. Knowing the DSS can help a cyclist correct his or her pedalling technique to ensure maximum power output.
#4 Retül
Similar to STT, Retül utilises a Vantage Motion Capture System to collect real-time, 3D data from the pedal stroke. The data is then analysed on a system and the fitter is able to dial in a perfect ride position catered specifically for the rider.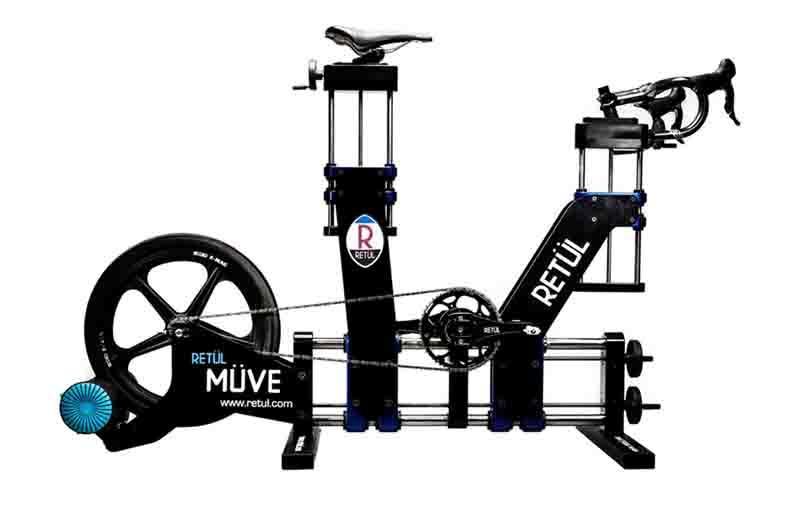 Beginning with a pre-fit physical assessment, the rider's injury and pain history, body's limitations and flexibility and goals on the bike can all be taken care of.
Bonus #5: Hudl Technique
Have you heard of a simple bike fit that can be done straight from your smartphone? We all know that these bike fitting tech might be a little costly.
If you are looking to do just a basic bike fit with rough measurements, try downloading this app called "Hudl Technique".
Simply take a picture of the rider on the bike and you can calculate the angle of the back and pedal stroke. For a normal recreational rider, the back angle would be about 45 degrees, while for a more aggressive rider, the back angle will be from 30-40 degrees. The best part is that this app is completely is free!
What are your thoughts on these systems? Love it, or hate it? Share your thoughts with us on our Facebook page!
Visit Fahrenheit Performance if you want to know more regarding the available cycling analytics systems and bike fitting technology services!
Latest posts by Esther Koh
(see all)
(Visited 1,470 times, 7 visits today)